25.09.2023 - Group excursion to Rüdesheim at the river Rhein.
Our annual group excursion took us to Rüdesheim at the river Rhein. We had an extremely nice and sunny September day and hiked up to the Niederwald monument enjoying tasty Federweißer (new wine) on the way.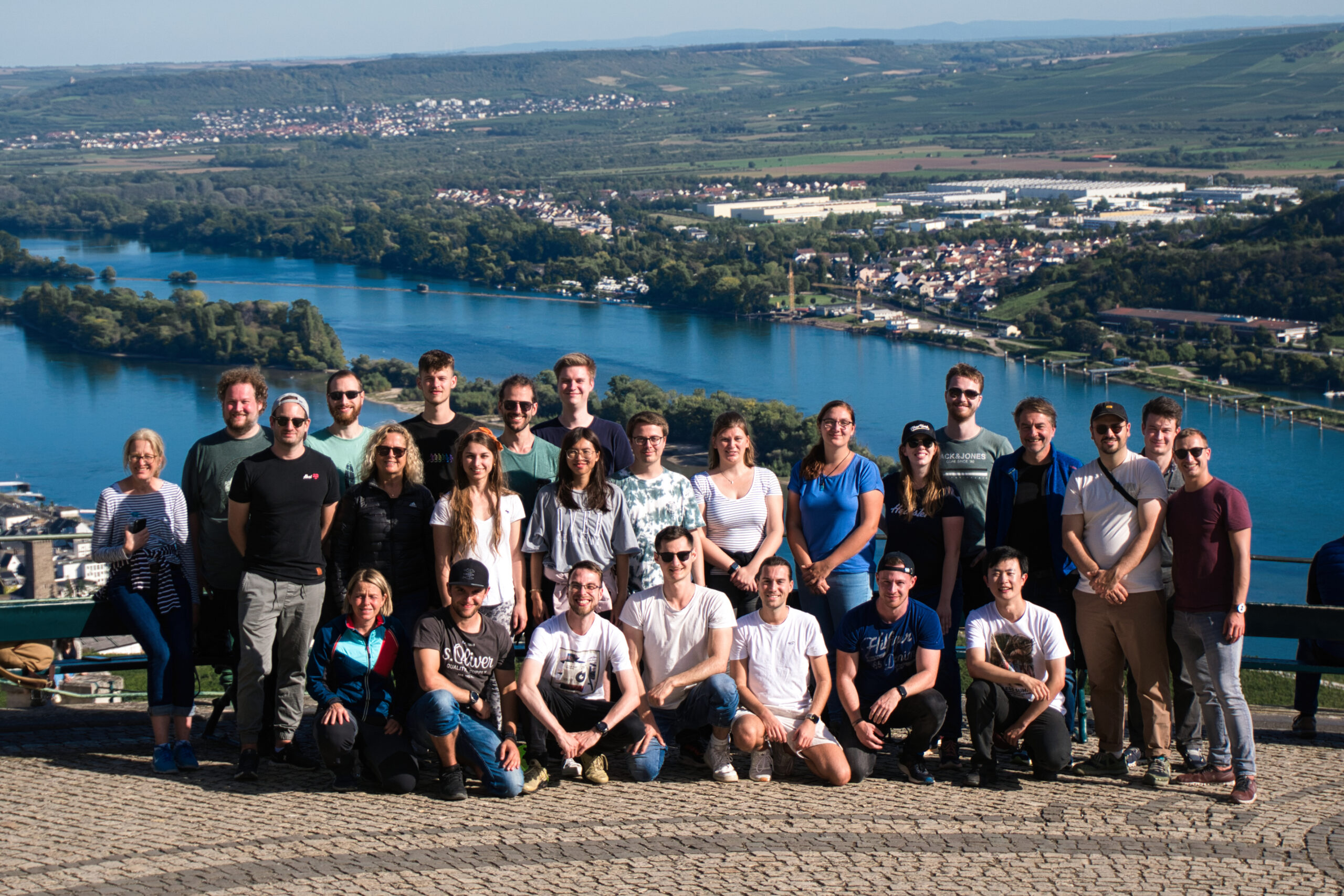 15.09.2023 - 17 Group members enjoyed a perfect day on the annual company run in Mainz.
Yesterday 17 group members including Prof. Frey participated in the company run in Mainz. Everyone has given their best and achieved excellent results. The weather was perfect on our side, so we all had a wonderful evening running through the lovely old time of Mainz.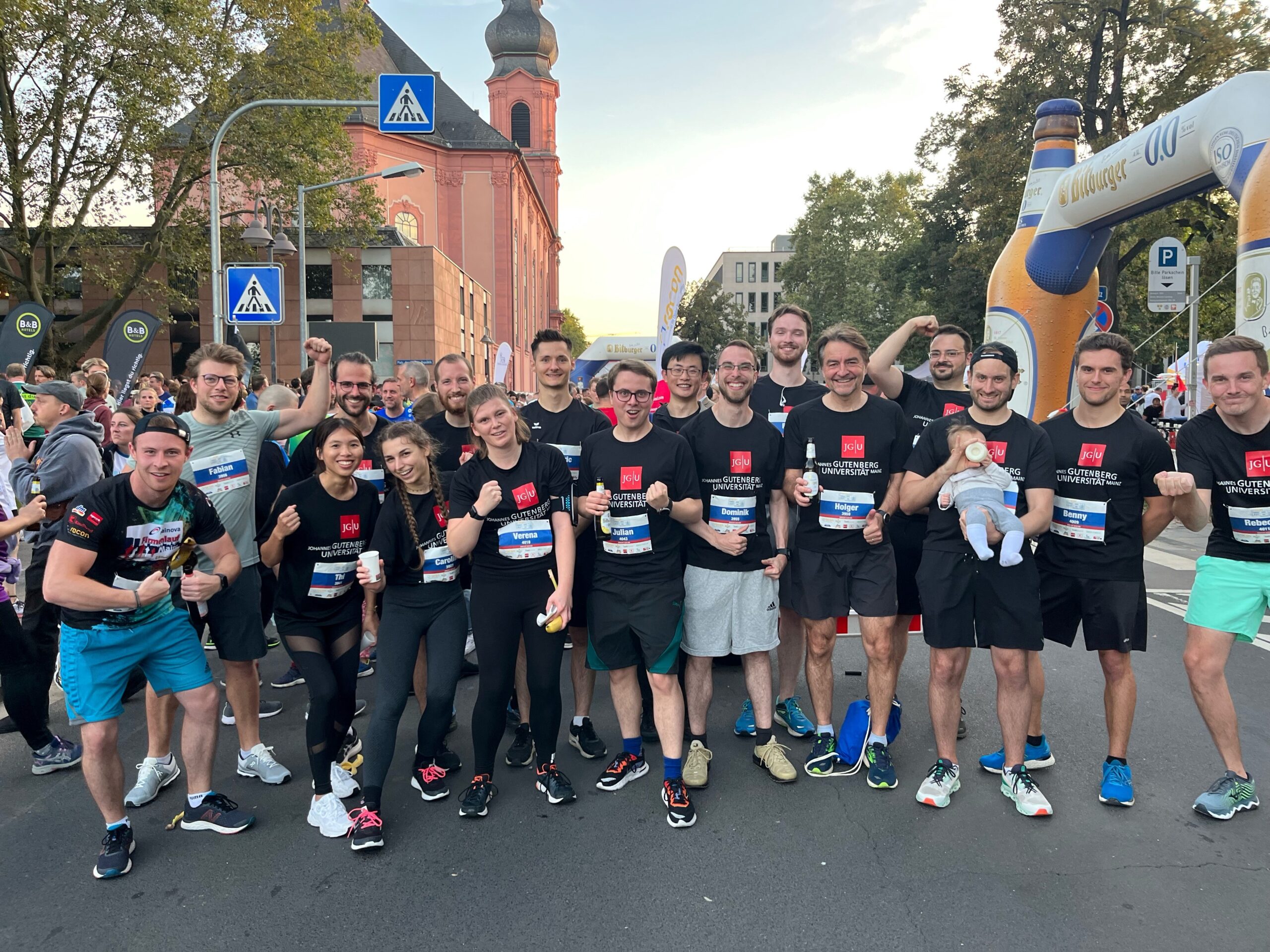 07.07.2023 - Elements - rPEG lipids: Risk-free delivery (Evonik)
Elements, the innovation magazine by Evonik, recently featured an article on rPEG lipids. These non-immunogenic alternatives to commonly used PEG lipids have been developed based on the novel rPEG technology in a close and fruitful collaboration of Evonik and Dr. Rebecca Matthes, Dr. Philip Dreier and Prof. Holger Frey.
Read more about the potential of rPEGs in mRNA delivery systems following this link:
ELEMENTS - rPEG lipids: Risk-free delivery (evonik.com)
German Version:
ELEMENTS - rPEG-Lipide: Transport ohne Risiken (evonik.de)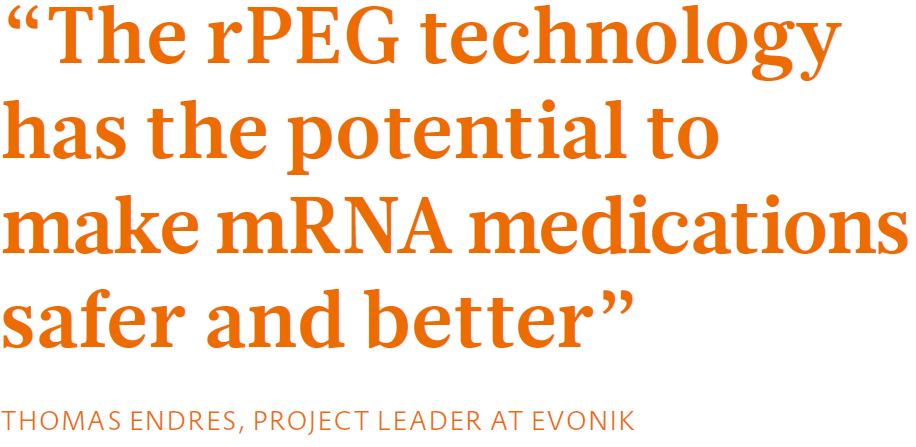 01.06.2023 - Frontiers in Polymer Science (Gothenburg, Sweden)
Last week's Frontiers in Polymer Science 2023 conference in Gothenburg (Sweden) was another great experience for members of the AK Frey to share our work with others and gather inspiration from many eminent speakers. Several group members presented their work during the two poster sessions and enjoyed the opportunity to discuss emerging trends in polymer science. In addition, we contributed two talks to the conference program. Prof. Frey introduced the hot topic of rPEGs – structural isomers of polyethylene glycol as one example to tackle the immunogenicity and crystallization challenges of pharmaceutical PEG. Moritz Meier-Merziger presented his work on a one-step synthesis route to fully bio-based thermoplastic elastomers during his first talk at an international conference. The conference #FrontiersPoly2023 gave us valuable insights, and we are grateful for new connections and collaborations. Proud to be part of this dynamic academic community, and we can't wait to invite many of them to our IP'24 conference on ionic polymerization in Mainz next year!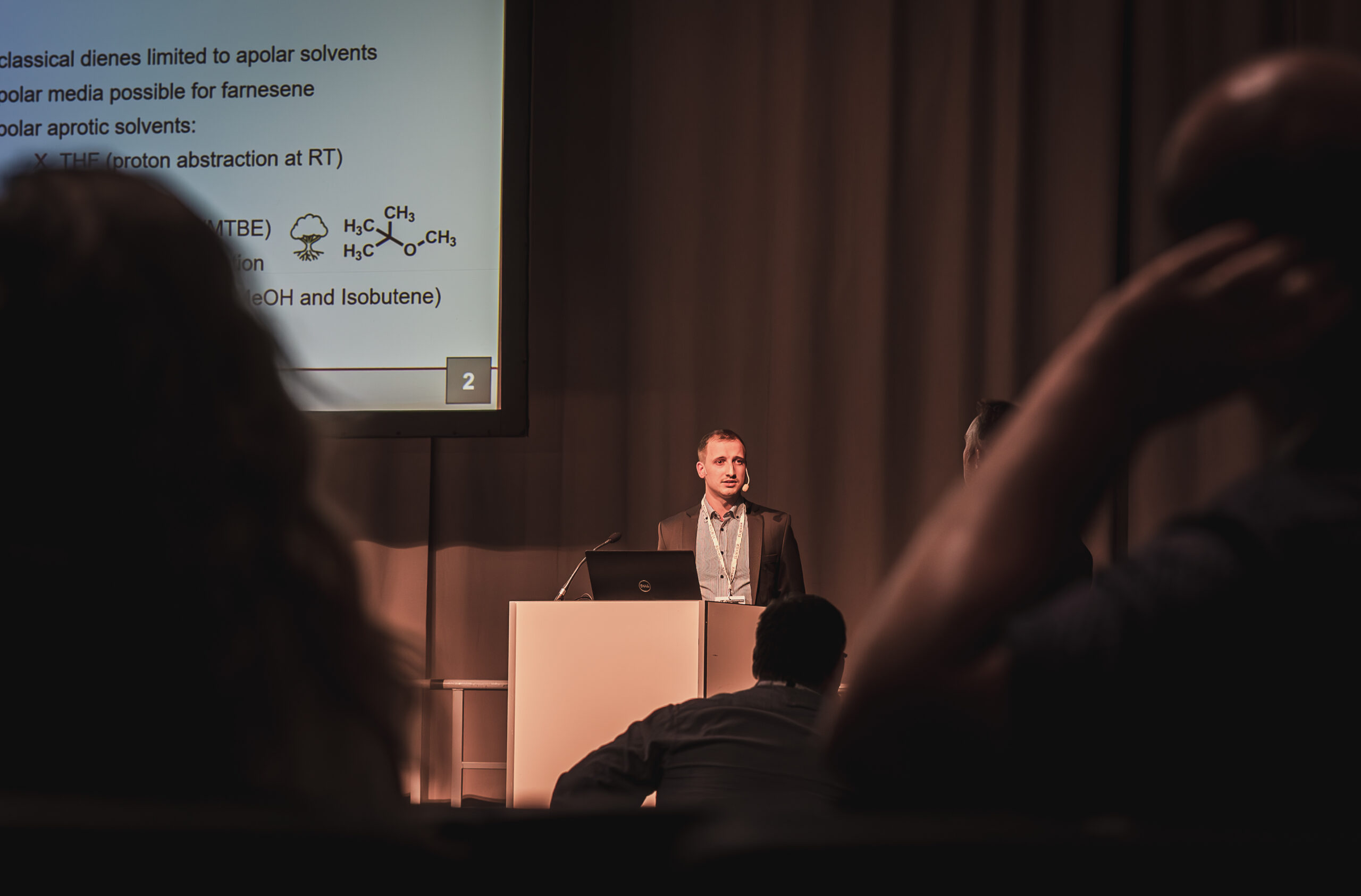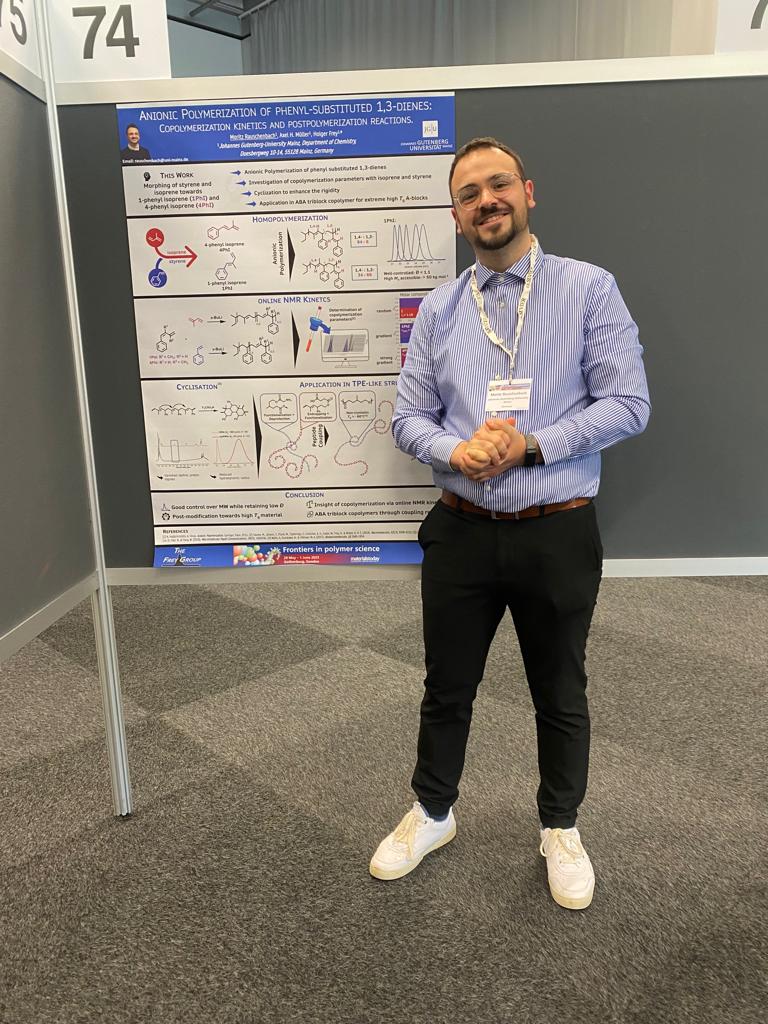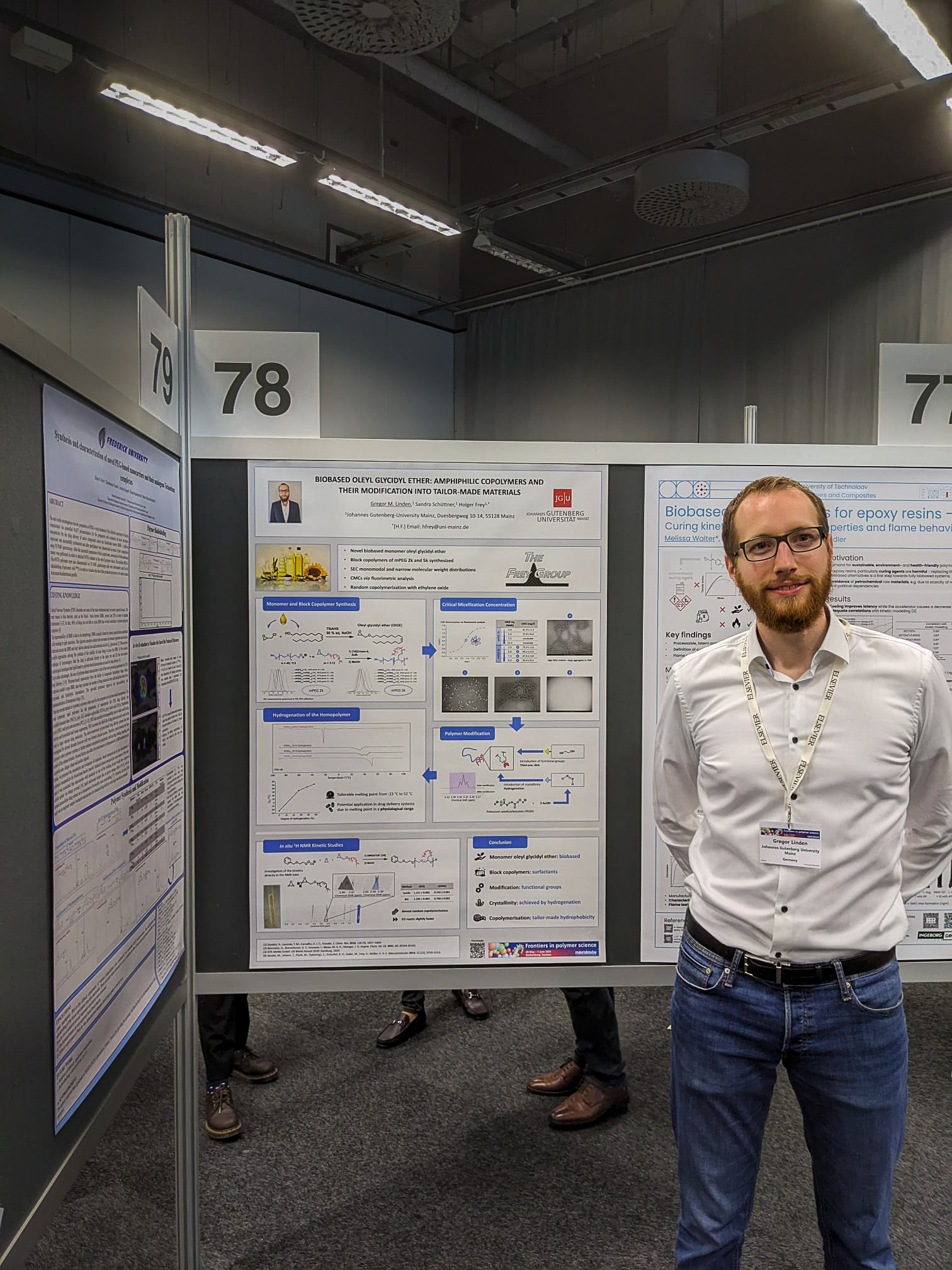 31.05.2023 - Publication on tailoring thermoresponsiveness of biocompatible copolymers of linear glycerol and ethyl glycidyl ether highlighted on the cover of Polymer Chemistry
LCST behavior of biocompatible polyether copolymers of linear glycerol and ethyl glycidyl ether was adjusted by variation of the comonomer compositions. This work by Verena Müller is highlighted on the cover of the RSC journal Polymer Chemistry.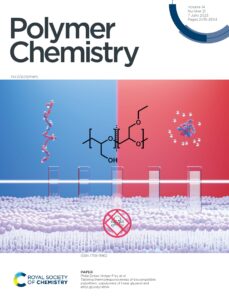 30.01.2023 - Kleinwalsertal group symposium 2023 in the alps
Our group met again this January for the annual seminar in Kleinwalsertal, Austria. The topic this year was "Agriculture and raw materials of the future". Here we learned a lot about perspectives in food production, as well as the importance of raw material extraction and the consequences for our industrial society. In the free time there was also time for hiking through the Breitachklamm, tobogganing and also skiing.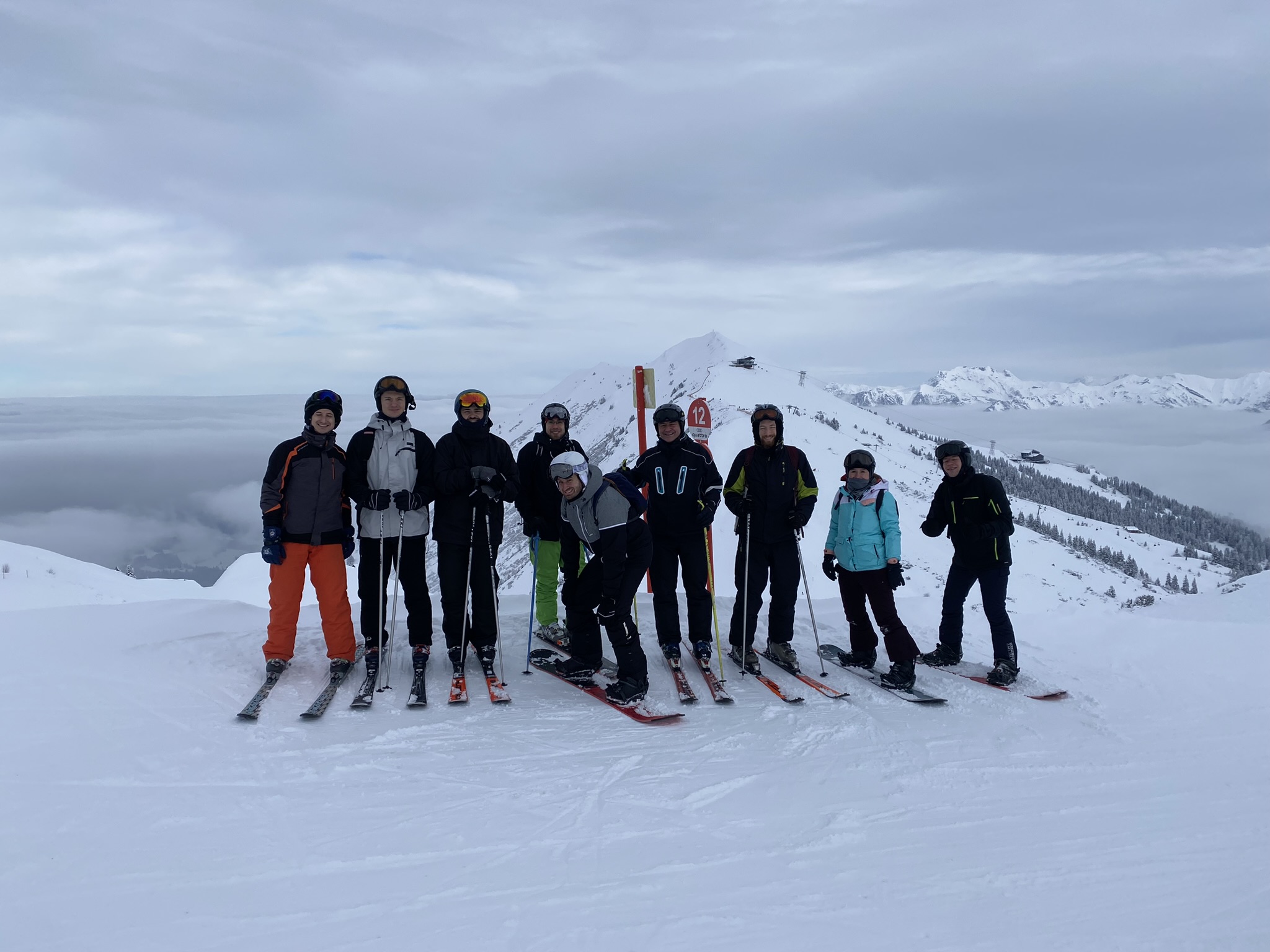 16.09.2022 - 14th International Symposium on Ionic Polymerization 2022 (IP´22)

Our research group was happy to attend the IP'22 in Ghent, Belgium, with 13 members including Prof. Holger Frey as well as Prof. Axel Müller in person to present their latest results. Four oral talks (Prof. Holger Frey, Prof. Axel Müller, Ramona B. and Christoph H.) and nine poster presentations (Dominik F., Dominik S., Gregor L., Maximilian K., Moritz. M.-M., Moritz R., Sandra S., Thi D. and Verena M.) were given. All of us enjoyed the interesting talks of other leading researchers about their recent works as well as having vivid discussions and interactions with all the attendees. Our group also enjoyed the extraordinary banquet dinner at the historic "Monasterium PoortAckere" Hotel and the city excursion - "Ghent Discovery Tour", where we learned a lot about the history of Ghent. We like to thank the organizers, Prof. Richard Hoogenboom and Prof. Filip Du Prez, for this great conference. 
We can't wait to welcome all the participants at the next IP'24 here in our City Mainz, Germany!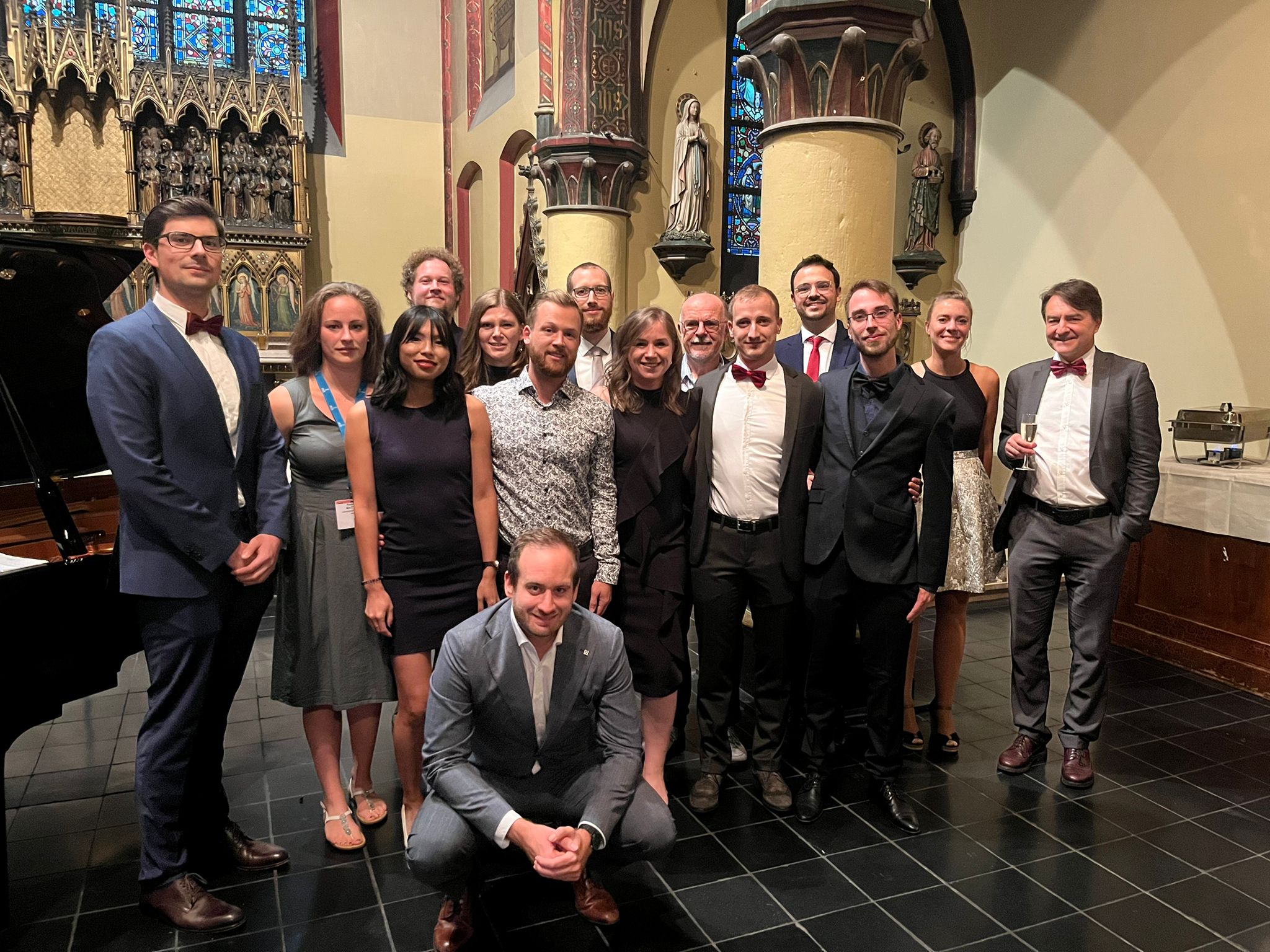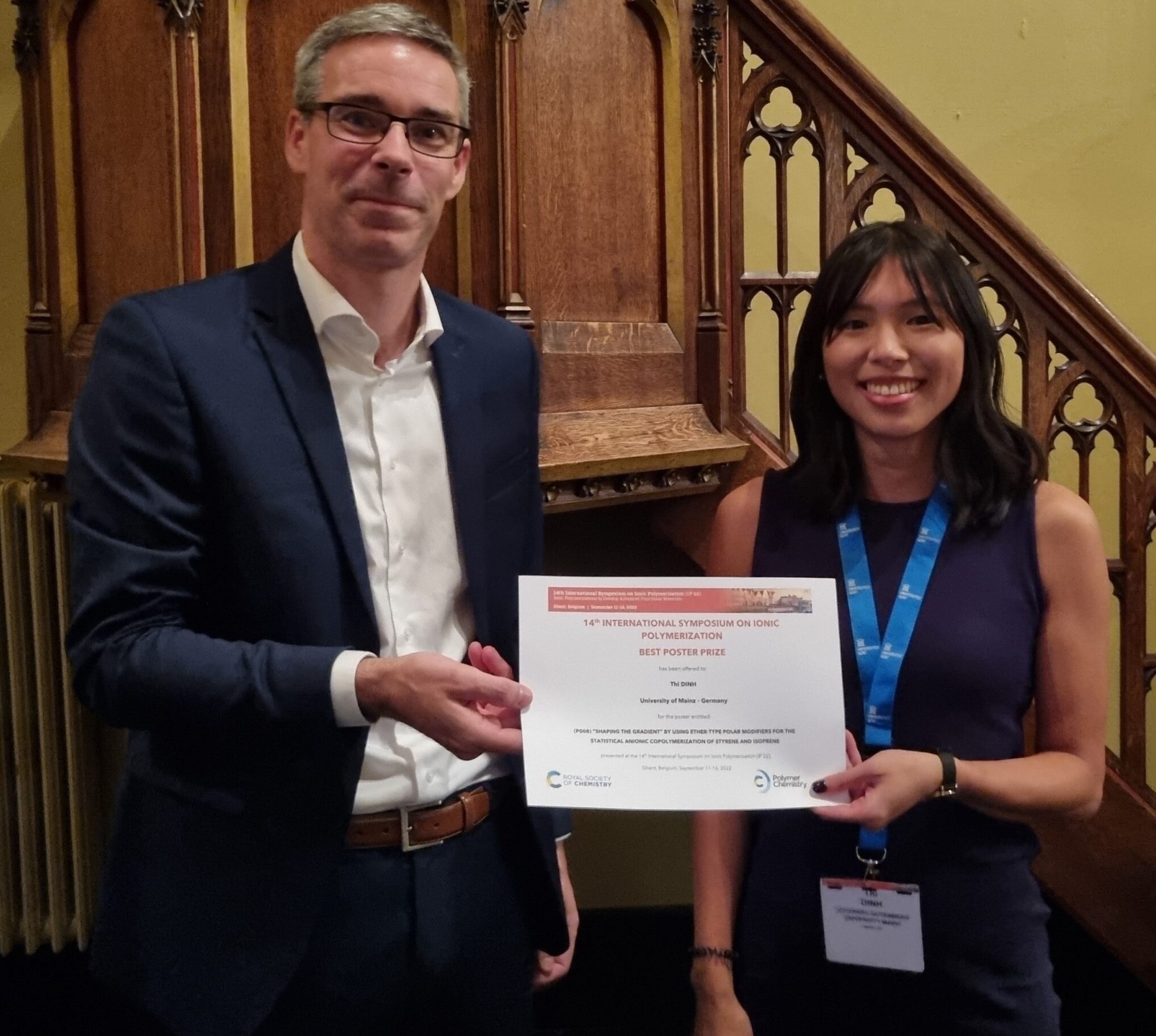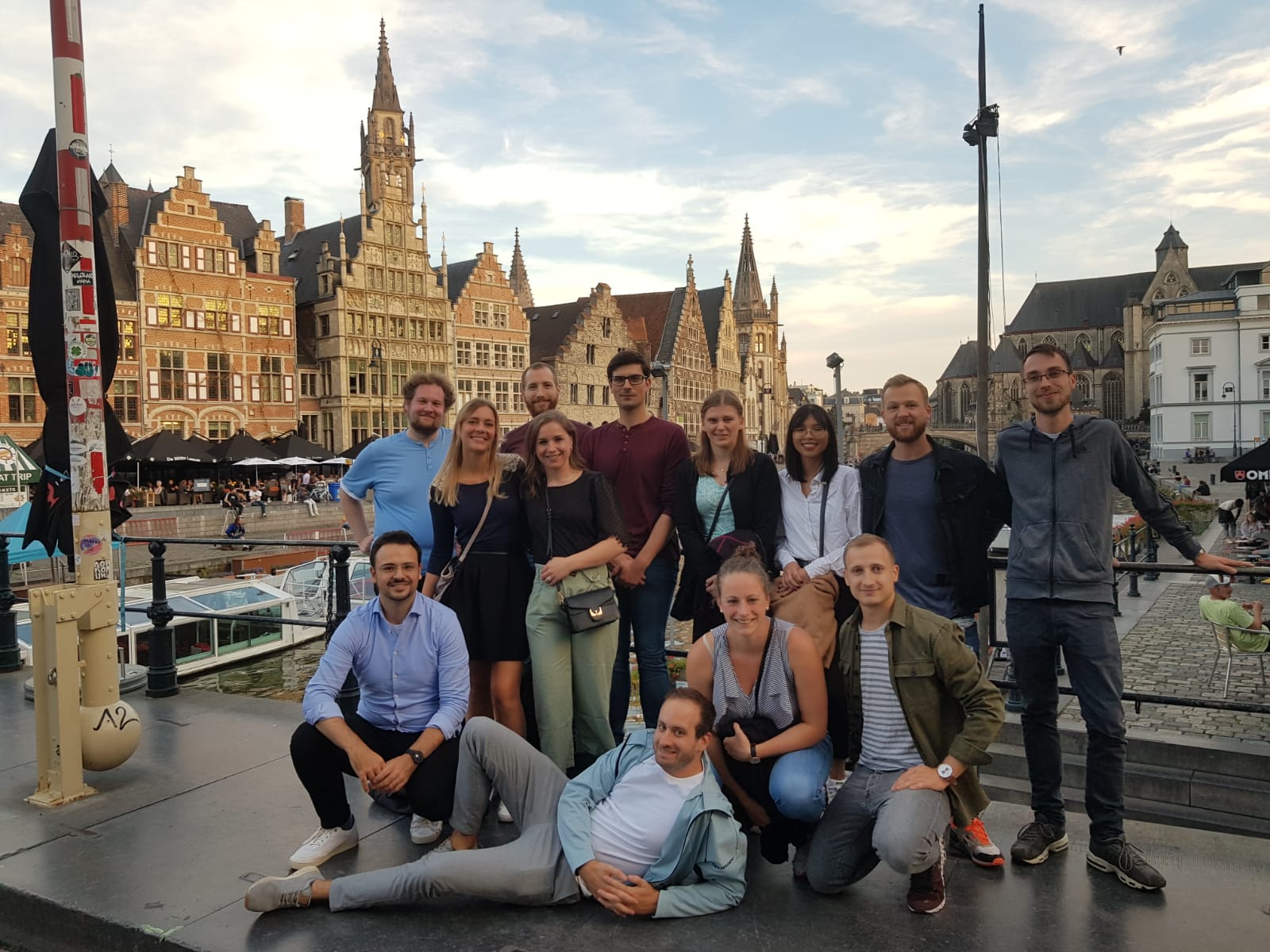 21.06.2022 - Bordeaux Polymer Conference BPC 2022

Eleven group-members attended the Bordeaux Polymer Conference where researchers from all over the world presented their newest research. Besides listening to these very exciting talks the group enjoyed the interaction with all the participants. For instance, nine posters represented the current research of our group members (Ramona, Verena, Thi, Shivani, Dominik F., Philipp H., Christoph, Moritz M.-M. and Moritz R) and were open for discussion. Everyone enjoyed having a real conference in person again and mostly the fantastic Gala Dinner.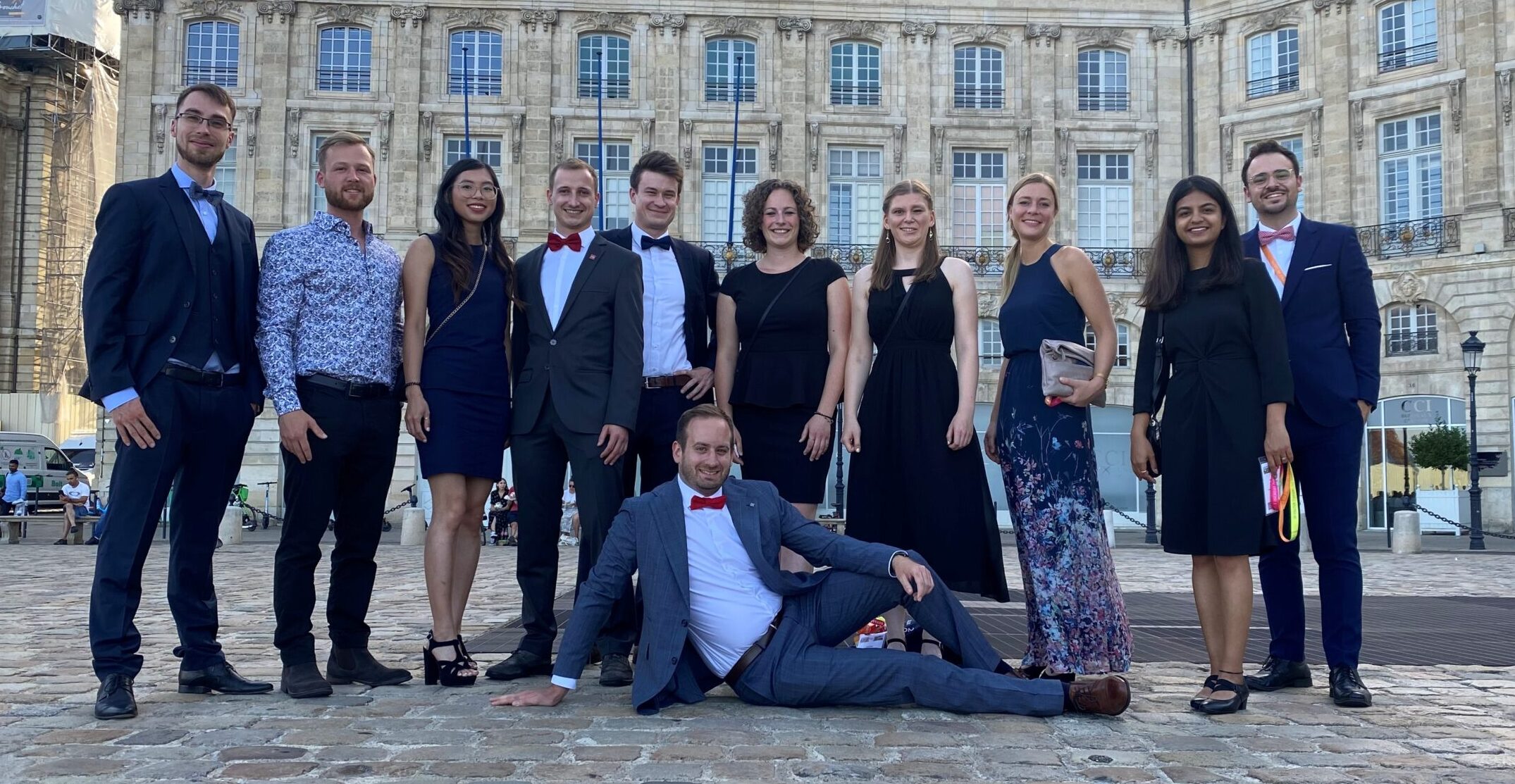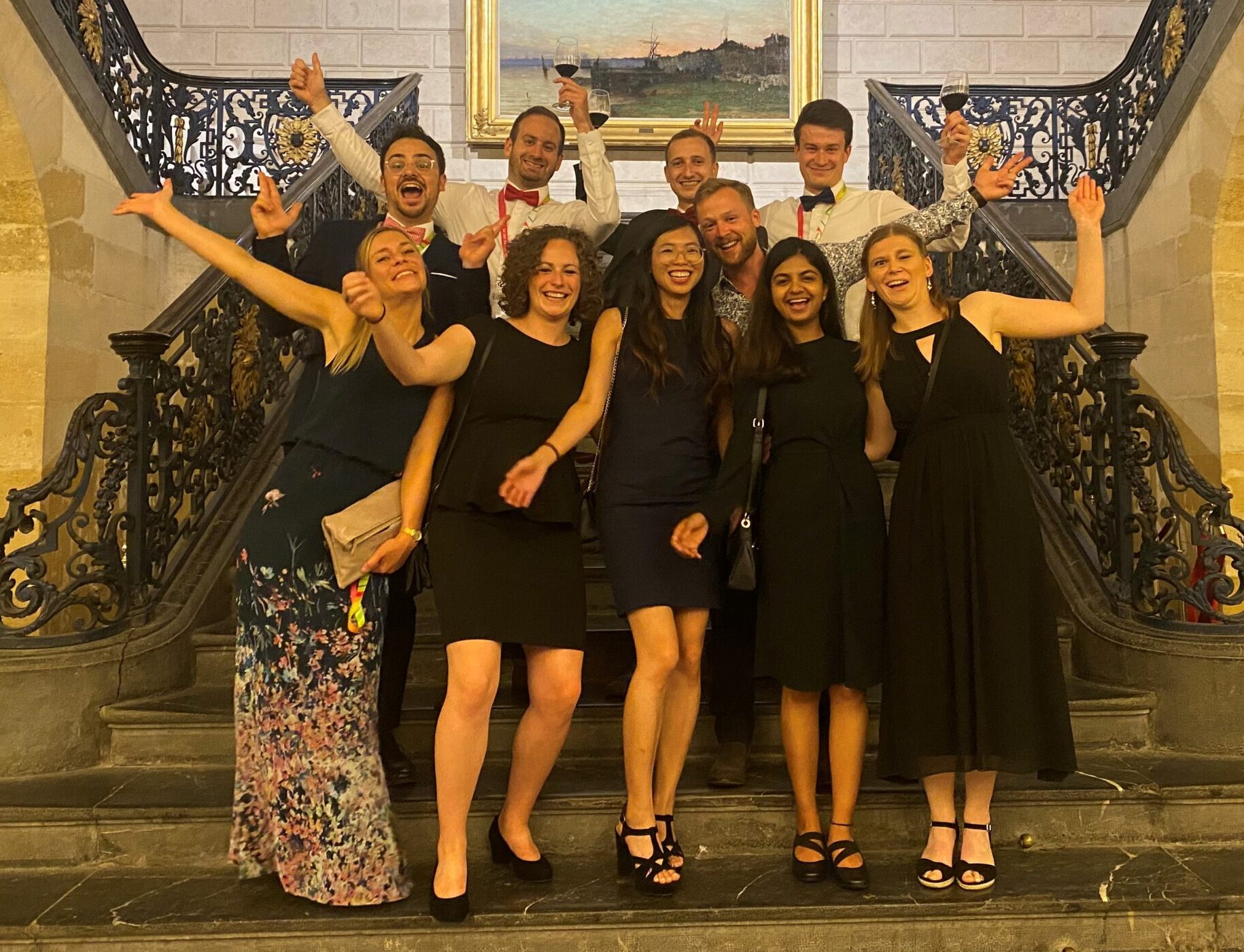 24.05.2022 - KU Leuven Research Council Award 2022 in Science, Technology and Engineering

Dr.-Ing. Rhea Verbeke, a visiting postdoctoral researcher at our group, was awarded the "KU Leuven Research Council Award 2022 in Science, Technology and Engineering" as a token of recognition and encouragement for her promising and valuable scientific work on 'Chemically robust epoxide-based membranes for sustainable water purification'.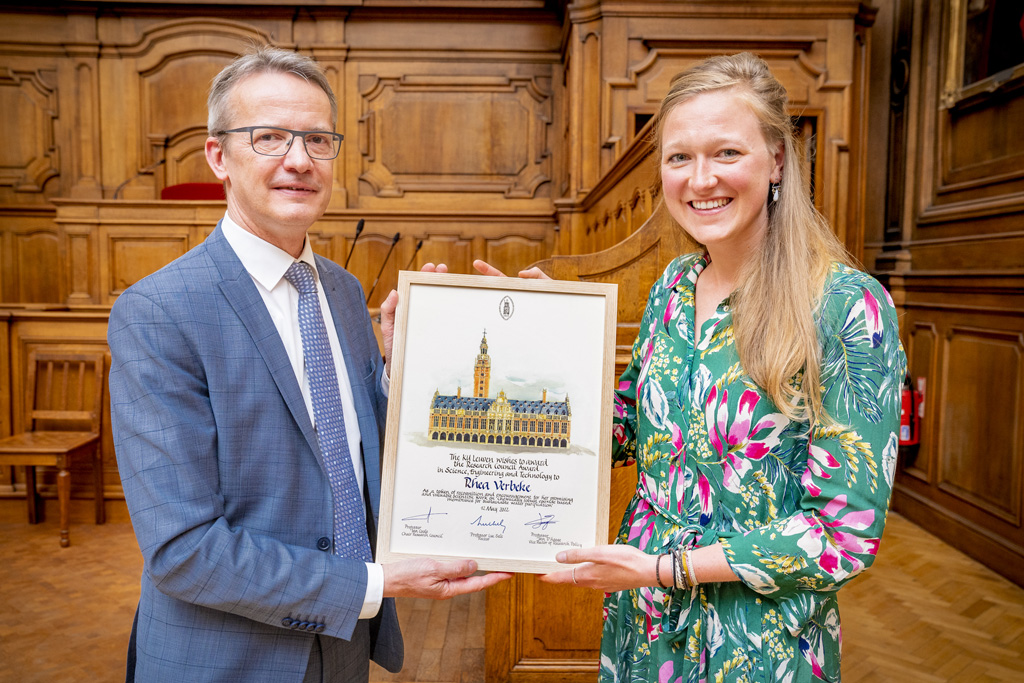 26.04.2022 - ERC Advanced Grant

The prestigious ERC Advanced Grant was awarded to Prof. Holger Frey for the project "RandoPEGmed". For more details follow the link to the announcement of the University of Mainz: https://www.uni-mainz.de/presse/aktuell/15456_ENG_HTML.php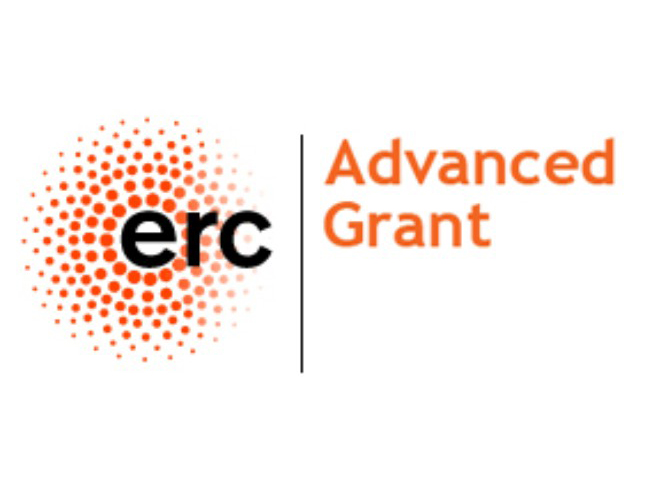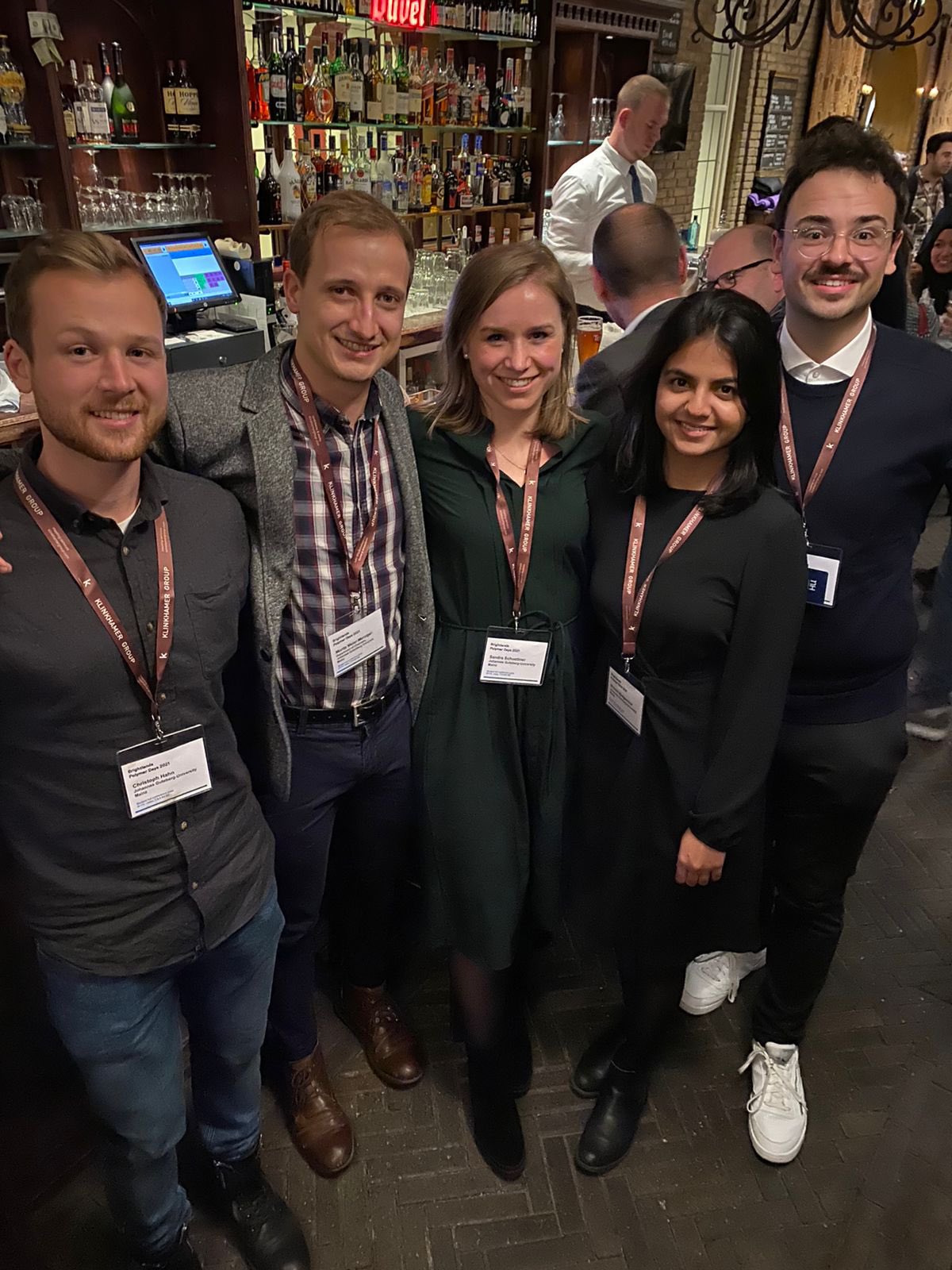 10.2021 - Kleinwalsertal group symposium 2021 in the alps

Early October, our group finally continued the tradition of a seminar week in the Kleinwalsertal, Austria. As the lectures were focusing on the topic "Sustainable polymer materials – towards a greener future", we learned a lot about sustainability and circular economy. Additionally, our stay was filled with beautiful hikes to the Schwarzwasserhütte and in the impressive Breitachklamm as well as some fun at the "Sommerrodelbahn" (summer toboggan-run).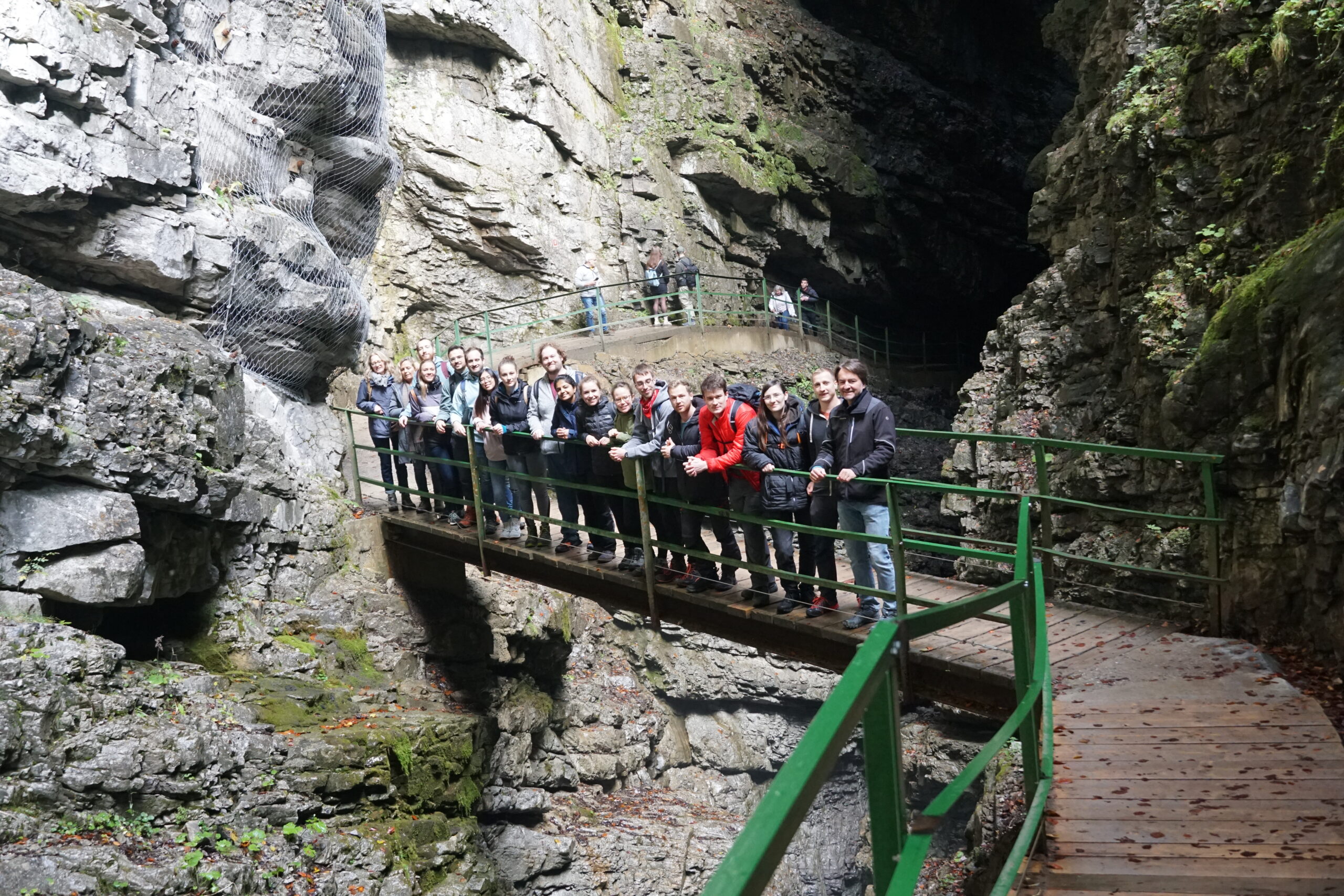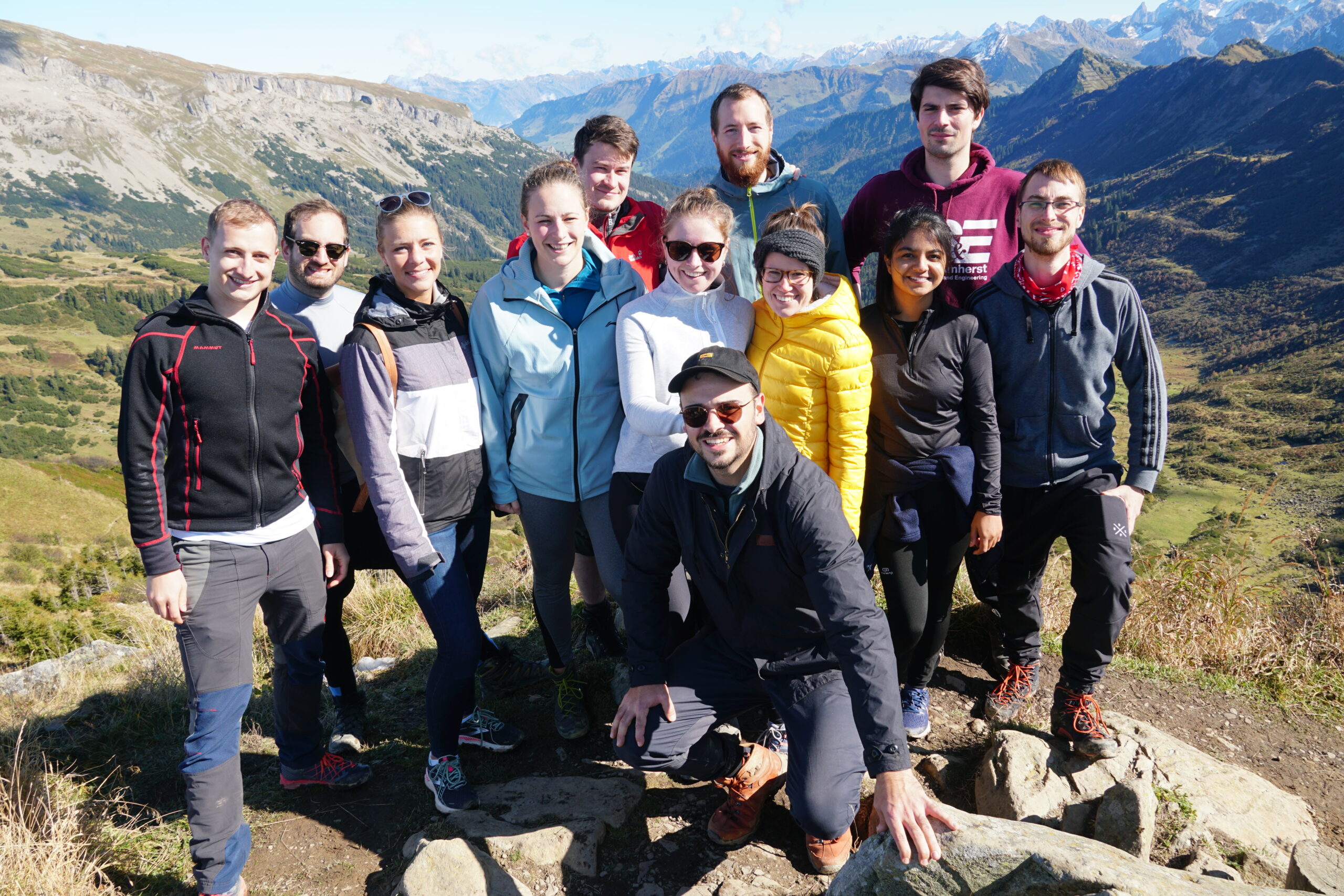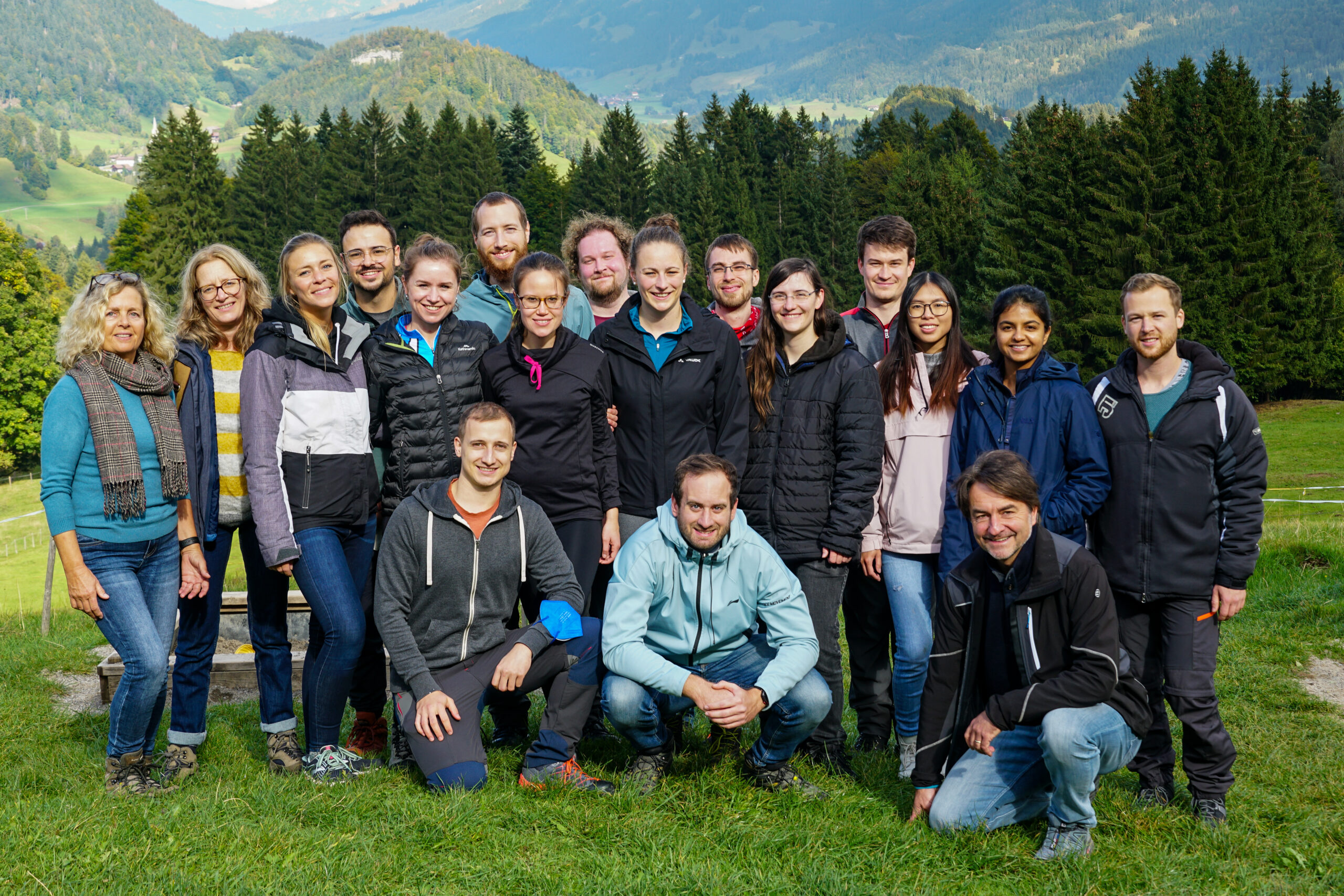 Philipp von Tiedemann, Jennifer Keth, Christina Gardiner, Philip Dreier, Erik Kersten, Tobias Kaiser, Christian Wahlen as also Holger Frey went for a 5 km run at the Mainzer Firmenlauf 2018.